An intriguing investigation about the visibility of women in European media
Many newsrooms start their day with sifting through the papers. If women already are invisible as experts, inevitably that will be the case in all other media.
For a period of four months we cut out all pictures of men and women from 136 randomly selected editions of newspapers (87 titles, 22 countries). After the cutting we posted the pictures on long sheets. Men and women separated. It collects 138 meters of footage! Also containing the paper ads. If you quickly browse a newspaper, it all seems so bad to coincide with the imaging. Until you just pull out the pictures and paste them consecutively. (video's on the right)
Latest news about women in the media:
Articles
Research/Reports
Videos
Websites
——————————————————
Articles
Beeldvorming uit de media beïnvloeden opleidingskeuze – 2016
De beroepsfantasieën van een tienjarige zijn even reëel als fantasieën over een ideale levenspartner. Die fantasieën zijn voor 60, 70 procent gebaseerd op wat de ouders belangrijk vinden (geld verdienen, aanzien, iets betekenen voor anderen) en voor het overige deel op beeldvorming uit de media.
By Hester Schaaf
When it comes to experts on TV, women are still neither seen nor heard – 2016
Men still vastly outnumber women in the news media.
When women do appear in broadcast news they invariably fall into several stereotypical categories. Increasingly they tend to be interviewed about their personal experience – often as victims of crime, or as parents or as consumers. They also appear far more often than men in health stories. Where they tend to appear far less is as authoritative or elite sources in political or economic stories.
By Julia Paul
Dat een vrouw doortastend is, zou geen nieuws moeten zijn – 2016
Hanneke Mantel analyseerde de politieke berichtgeving van vier Nederlandse kranten en concludeert dat ook hier de media zich schuldig maken aan het seksistisch beschrijven van vrouwelijke politici.
… het is veelzeggend dat in een artikel over minister Schippers een zin staat als: 'Edith gedraagt zich dan ook niet als vrouw.' Hard en direct optreden is blijkbaar nog tot op zeker hoogte 'onvrouwelijk'.
By Hanneke Mantel
Vrouwelijke auteurs in de media – 2016
In het eindklassement trof ik de bekende hekkensluiters: Vrij Nederland met 16% vrouwen in totaal (exclusieve Gentlemen's Debating Society) en Het Parool met 20% vrouwen (Boys' club met afgebladderde boomhut). Niet veel beter was de krant die als drie-na-laatste eindigde, NRC met 25 % (laat 19e-eeuwse liberale kiesrechtcommissie). Enfin, daarna schommelen bijna alle bijlagen rond de 30%, met als positieve uitschieter wederom Trouw – hoera toch weer voor deze krant.
de Volkskrant lijkt qua cijfers een aardige middenmoter, maar heeft een Parool-achtige desinteresse voor vrouwen; ze presteren het week na week het merendeel van alle grote stukken te reserveren voor de mannen, om de vrouwen pas in ultrakorte signalementen te… signaleren. Zonder die signalementen zou de Volkskrant dus direct kelderen in het klassement. #lekkertellen
By Lezeres des Vaderlands
Talkshowvlees – 2016
In de rubriek Talkshowvlees bespreekt programmamaker Mapke de Boer hoe het is gesteld met diversiteit in de Nederlandse talkshows.
Waar zijn de vrouwelijke gasten?
By Mapke de Boer
Sekse-ongelijkheid in Vlaams nieuws – 2016
Een kwantitatieve inhoudsanalyse naar de aanwezigheid en hoedanigheid van vrouwen en mannen in Vlaamse nieuwsverhalen.
By Sara De Vuyst, Susan Vertoont & Sofie Van Bauwel
'Dames' veroveren de wereld en dus de krant – 2016
Het woord 'dames' heeft de zweem van theekransjes of van lichte zeden. In die context duikt het woord af en toe op in de nieuwskrant. Doorgaans niet in relatie tot wereldleiders. Toch kwam 'dames' wederom drie keer voorbij in een reportage over de eerste ontmoeting tussen Merkel en May. Kritiek was er vooral op de uiterlijke beschrijvingen: 'Theresa May liep op de luipaardhakjes die ze ook droeg op haar eerste dag in de Downingstreet nummer 10, Merkel op instappers met sleehakken die vooral tot doel leken te hebben haar in lengte dichter bij May te brengen.' Die laatste interpretatie roept sowieso vragen op (draagt ze anders geen hakken?).
Onbedoeld seksisme schuilt in een klein hoekje. In het ene verhaal kan een uiterlijke beschrijving veelzeggend of een mooi detail zijn, terwijl deze in een ander verband irriteert of seksisme suggereert. Bij twijfel kan de omdraaitruc helpen: zou ik in dit geval ook zo over een man/vrouw schrijven? Verder is het een kwestie van tijd. Hoe meer luipaardhakjes de macht grijpen, des te saaier de beschrijving wordt.
By Annieke Kranenberg
Deze sesksistische commentaren over olympische sportsters verdienen geen eremetaal – 2016
Meer vrouwen dan ooit, 45 procent van de atleten, doen dit keer mee aan de Olympische Spelen. Toch lijkt er in de (sociale) media nog steeds meer aandacht te zijn voor het uiterlijk, gezinssituaties of relaties van vrouwelijke sporters dan voor hun prestaties. De meest opmerkelijke seksistische uitspraken tijdens de Olympische Spelen tot nu toe.
By Mayella Deelstra
Men Can't Stop Mansplaining Long Enough To Learn What Mansplaining Is – 2016
Studies have shown time and time again that women are interrupted in conversation way more than men. We're not imagining this. Not only are we more likely to be interrupted and less likely to be vocal at work, we're also negatively perceived if we try to speak up. A 2015 study showed that women were judged more harshly when speaking up assertively: "Women's perceived competency drops by 35 percent and their perceived deserved compensation by $15,088 when they are assertive or forceful." Well, that's comforting.
By Maria Guido
'Meer diversiteit bij publieke omroep nodig' – 2016
NPO ziet voor zichzelf een taak weggelegd om een afspiegeling te zijn van de samenleving, aldus Rijxman. 'Dat is nu nog niet het geval. Er zijn veel minder vrouwen en niet-westerse allochtonen terug te zien in de programmering bij de publieke omroep dan in de samenleving. In het geval van de vrouwen is dat zelfs gedaald. In 2010 was 37,6% van de mensen dat in beeld kwam vrouw, in 2015 was dat nog maar 35,4%.' Het NPO-bestuur wil diversiteit bevorderen door het een belangrijk criterium te laten zijn bij het kiezen uit ideeën voor nieuwe programma's. Als de nieuwe Mediawet door de Kamer komt, dan krijgen ook onafhankelijke producers nadrukkelijk de vraag om programmavoorstellen in te dienen die de diversiteit op de Nederlandse televisie zullen versterken. Daarnaast krijgen redacties de opdracht om 'hun ideeën en mogelijkheden' te delen om diversiteit in hun programma's te bevorderen.
By Nadia Ezzeroili
L1 zoekt deskundige vrouwen – 2016
Als publieke omroep willen we vooral in ons achtergrondprogramma bij het nieuws verschillende geluiden laten horen. Van verschillende partijen, met verschillende achtergronden. Een palet van meningen dat net zo breed is als de provincie lang. Het kost wel moeite om relevante vrouwenstemmen te vinden bij de nieuwsonderwerpen. Omdat we ze niet kennen, of omdat ze niet willen.
By Maurice de Heus
Ook wereldwijd geen vooruitgang vrouwen in het nieuws – 2015
(persbericht)
Are more women appearing as 'experts' in broadcast news bulletins? – 2015
The gender gap is narrowest in stories on science and health, but these topics are given only the lowest importance on the news agenda (occupying only 8% of the overall news space).
And the gap is widest in news about politics and government in which women are only 16% of the people in the stories.
By Roy Greenslade
100 women 2015: Women 'still much less visible in media' – 2015
The report commends Latin America for improving the proportion of female reporters and presenters. In 2000, only 28% of women were in these roles. Now, 15 years on, it stands at 43%.
Dr Macharia thinks there are wider cultural reasons for this change. "It's the region in the world with the highest proportion of female heads of government and it has vibrant feminist movements," she said.
By Naomi Grimley
End media sexism by 2020, leaders tell UN news conference – 2015
Braun and the Rev. Dr. Karin Achtelstetter, WACC general secretary, noted that #5 of the U.N.'s Sustainable Development Goals is to achieve gender equality and empower women and girls. "We have to end media sexism by 2020. At this rate, it will take three-quarters of a century to reach equality in numbers. We are calling for an action plan," Achtelstetter said. She noted that one target is for newsrooms to support gender equality in 100% of national public media and 40% of private media in each country.
"Is news failing women" debated by news editors – 2015
Ben de Pear, Editor of Channel 4 News in the UK disagreed with setting quotas, but said monitoring was critical. Citing his own channel's monitoring practices, he said, "Over a month you need to be aware of who is on the news."
Recruitment practices by news agencies, as well as conscious balance in journalism were highlighted as necessary steps for longer term change. O'Brien added that, "By creating opportunities for women who are experts" to be seen and heard will influence a young girl to become such an expert herself.
By Sara Speicher
Media Monitoring Report: No Gender Equality In The Media – 2015
The study also found out that women remain more than twice likely as men to be portrayed as victims as they were a decade ago at a ratio of 16 percent for men to eight percent for women. It also discovered that 37 percent of news stories in traditional media are reported by women showing a global glass ceiling for female reporters, while in online media outlets, 42 percent of news stories are reported by women.
Women Have Made Little Progress Narrowing Media Gender Gap in Past Decade – 2015
With 36 percent of women present in the media, North America has the narrowest gender gap. Women are least visible in news in the Middle East. In the past 20 years, Latin America has made the most progress closing its media gender gap, going from 16 percent of women in 1995 to 28 percent in 2015.
By Lucy Westcott
Women Largely Absent From Global News Coverage, New Report Finds – 2015
The United States has a slightly higher percentage of expert sources who are women, but the numbers are still very low. In the U.S., women are 36 percent of people interviewed as experts on a topic, up from about twenty percent in 2000, Sarah Macharia, a coordinator of the report, told International Business Times.
By Marguerite Ward
Diana Matroos: 'Nieuwsredacties horen een afspiegeling van de samenleving te zijn' – 2015
'Als we geen diverse redacties hebben, missen we verhalen, nieuwe inzichten en een andere blik. En nieuwsmedia zullen het ook in hun portemonnee gaan voelen. Met de digitalisering gaan kijkers anders met televisie om. Als een programma niet aanvoelt wat het publiek wil, zoeken mensen het wel ergens anders op. Die groep ben je dan dus kwijt. Onverstandig, ook in economisch opzicht.'
By Laura de Jong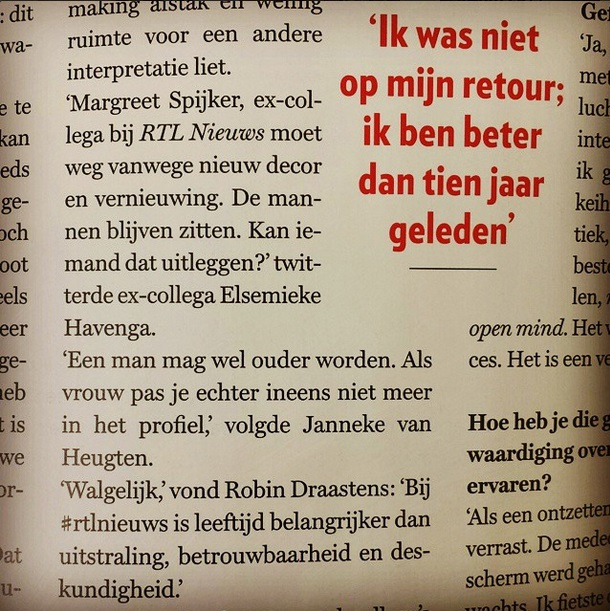 Bron, Opzij 2014
Een jaar sinds de laatste vrouw bij Sven Kockelmann aanschoof – 2015
"Ik scrolde een beetje langs de afleveringen van het afgelopen jaar om te zoeken naar uitzendingen met mensen waar ik op een of andere manier een soort van verwantschap mee heb. Vrouwen bijvoorbeeld, om mee te beginnen. Maar, eh, die waren er niet. Geen enkele. Nul. Wat ik wel las: 'Sven Kockelmann toetst de argumenten en de geloofwaardigheid van mensen met grote invloed op het publieke debat en de samenleving.' En er bekroop me een gevoel van lichte irritatie. Denkt deze Sven Koppelmann nu serieus dat er geen vrouwen zijn die hieraan voldoen?
(….) Wanneer er dan ook nog iemand televisieprogramma's maakt die een afspiegeling zouden moeten zijn van mensen die van invloed zijn op de samenleving en de vrouw ontbreekt hier volledig… (oké, vorig seizoen mochten twee vrouwen aanschuiven), dan schept dat nóg een extra te doorbreken dingetje in het verwachtingspatroon van velen als het gaat om de (potentiele) positie van vrouwen.
By Tinkebell
This Underwear Company Wants To Change Our Idea Of The 'Perfect' Male Body – 2015
One-third of guys have negative feelings about their body, according to a survey of 2,068 men in Norway and Sweden that TNS Sifo conducted with Dressmann over the summer and shared with HuffPost. The survey also showed more men are worried about their physical appearance than their financial circumstances or social life.
By Tyler Kingkade
In de reclames kookt mama en werkt papa – 2015
Let er maar eens op: op de zorgende, blije, jonge huisvrouwen in de reclame. Zag je in de jaren negentig nog wel eens vrouwen in mantelpakjes op hun werk in reclamespots, tegenwoordig zitten de vrouwen allemaal (weer) thuis. Ze zorgen voor hun gezin, hebben kilometers vrije tijd en hoeven nooit naar hun werk.
"Reclame bevestigt stereotypen die we onbewust verankeren in ons brein."
By Japke-d. Bouma
Minder vrouwen op de publieke zenders dan vijf jaar geleden – 2015
Het aantal vrouwen in televisieprogramma's op de publieke omroep is de afgelopen vijf jaar gedaald. Dit terwijl de NPO in 2010 een 'prestatieafspraak' sloot met het ministerie van Onderwijs, Cultuur en Wetenschap om het aantal vrouwen in beeld in vijf jaar te laten toenemen.
Met name bij de grote dagelijkse talkshows (De Wereld Draait Door, Pauw en Jinek) zijn vrouwen zwaar in de minderheid, blijkt uit een inventarisatie van de NPO en onderzoek van de LJS Nieuwsmonitor in opdracht van NRC. Het Commissariaat voor de Media, dat toezicht houdt op naleving van de afspraken, heeft hierover vorige week een brief gestuurd aan staatssecretaris Dekker (VVD).
By Stijn Bronzwaer
Mannen beheersen nog altijd het nieuws – 2015
In de Nederlandse media spelen mannen nog veelal de hoofdrol. Ruim tachtig procent van de mensen in het nieuws is van het mannelijk geslacht, zo blijkt uit de steekproef Global Media Monitoring Project op woensdag 25 maart 2015. Hierin is de aanwezigheid van mannen en vrouwen in het nieuws in de kranten, op de radio, de televisie en internet op één dag geteld. De score is beduidend slechter dan bij de vorige monitor in november 2009. Een kleine twintig procent (19,5) vrouwen nu ten opzichte van dertig procent in 2009.
By Janneke van Heugten
Role of media – 2015
How does celebrity culture influence your daughter? What is the truth about media influence on body image? Use our practical articles and activities to start talking to your daughter and give her the skills she needs to resist media stereotypes.
16 on-point responses from female scientists to Nobel winner's sexist comments – 2015
Female scientists have been tweeting photos of themselves (and some historical figures) with the hashtag #distractinglysexy in response to Sir Tim Hunt's comments on Tuesday. He told a conference in South Korea that the "trouble with girls" is they fall in love with you, you fall in love with them and that then when they're criticised, they cry.
By Blathnaid Healy
Meet The CEO Who Is Working To Ensure That Women Get Equal News Coverage – 2015
The organization just launched a reporting initiative called Across Women's Lives (AWL).
The plan is to produce at least three times the coverage of commercial news media on women's rights issues, which will take up nearly a quarter (18%) of PRI's total news coverage. Miller says she believes Across Women's Lives will eventually reach an audience of at least 65 million.
At a time when women are woefully underrepresented in the top ranks of news media jobs–men occupy 73% of management at more than 500 media companies globally–Miller doesn't believe PRI would be taking this step if she weren't leading the charge and if the board chair and 35% of the board weren't female. "That doesn't mean a man couldn't do it," she maintains. "What I know is that it hadn't happened yet."
By Lydia Dishman
Vrouwenquotum op tv: 4,2 – 2015
Ik hield een enquête bij Het Financieele Dagblad, waar ik tegenwoordig werk (en waar de man-vrouwverhouding ook verre van 50-50 is). Mijn vrouwelijke collega's vroeg ik: zijn jullie voor of tegen zo'n vrouwenquotum op tv? Tegen, was het antwoord. 'Anders krijg je een obligaat leuk uitziend moppie: maximaal 28 jaar of Halina Reijn,' zei eindredactrice Sanne Kloosterboer. 'Verandering moet van onderaf komen.'
Verslaggeefster Sandra Olsthoorn: 'Zo'n Peter R. de Vries heeft last van ontzettend duidelijke meningen. Over álles. Nou, ik niet. En ik ga me niet met een stok de studio in laten slaan omdat Jinek aan een quotum moet voldoen.'
Haar collega Franka Rolvink verstrekte een jaar geleden een lijst met namen, foto's en specialismen van FD-redactrices aan Women Inc., voor media die vrouwelijke deskundigen zoeken. 'Nooit meer iets van gehoord.' Maar een quotum, nee. 'Vrouwen moeten het zélf doen. Ik merk zelf ook dat mannen uitgesprokener zijn in interviews.'
By Boudewijn Geels
Vrouwen, waar zijn jullie? – 2015
De media scheppen ons een beeld van de maatschappij waar wij al snel in geloven. Als iets in de krant staat of in het acht uur journaal komt, dan beschouwen wij dat vaak als de waarheid. De media hebben invloed op hoe wij onze maatschappij bekijken. Hoe wij onze opinie vormen en hoe wij bevolkingsgroepen bekijken. Als we kijken naar de werkende maatschappij dan zien wij dat in het dagelijks leven bijna evenveel mannen als vrouwen werken. In de media wordt de werkende maatschappij vooral in de vorm van een blanke man afgebeeld. Meisjes groeien op en zien in de media weinig vrouwelijke rolmodellen die hen tonen wat zij allemaal kunnen worden
Naast het belang voor de volgende generatie is er ook een directer belang. Namelijk die van de economische positie van vrouwen. Door jezelf zichtbaar te maken in de media weten meer mensen wie je bent. Als meer mensen weten wie je bent en naar je luisteren, vergroot dat de invloed die je kunt hebben.
By Janneke van Heugten
'Vrouwelijke journalisten steeds vaker slachtoffer van online intimidatie' – 2015
'Deze online aanvallen gaan doorgaans niet over de inhoud van de artikelen, maar hebben als doel de journalist als vrouw op haar plek te zetten', zegt Mijatovic tegen de BBC. Het is dan ook geen toeval dat vrouwelijke journalisten vaker dan hun mannelijke collega's worden bedreigd met verkrachting en seksueel geweld. Voor een groeiend aantal verslaggeefsters zou deze online intimidatie 'onderdeel van het dagelijks leven' zijn geworden. De Organisatie voor Veiligheid en Samenwerking in Europa (OVSE) heeft aan de bel getrokken over de 'gevaarlijke trend', die de online veiligheid van vrouwelijke reporters over de hele wereld op het spel zet.
By Jennie Barbier
BBC discrimineert oudere vrouw – 2015
Het Hogerhuis heeft een vernietigend rapport geschreven over oudere vrouwen die worden weggepest en geweerd bij televisieprogramma's. De kritiek richt zich vooral op de BBC. Vrouwen hebben het moeilijk bij nieuwsprogramma's en actualiteitenrubrieken van de Britse omroep. Bij deze afdelingen werken daardoor relatief weinig vrouwen concludeert een onderzoekscommissie van het Britse Hogerhuis. Bij het Britse tv-journaal werken bijvoorbeeld vier keer zoveel mannelijke verslaggevers als vrouwelijke. Dat geldt ook voor het aantal deskundigen dat in beeld komt. De voorzitter van de onderzoekscommissie Lord Best concludeert: "Hoewel vrouwen meer dan de helft van de bevolking beslaan, zijn zij ernstig ondervertegenwoordigd onder de redacteuren bij de BBC en op televisie."
Bron: NOS
Ultra-Orthodox Jewish Newspaper Edits Female World Leaders Out of Charlie Hebdo March – 2015
Yesterday's historic march across Paris included over 40 world leaders expressing solidarity for France after the Charlie Hebdo massacre, but if you read this Haredi newspaper, you'd believe that none of them were women.
By Tina Nguyen
The Media as a Career Obstacle for Women – 2015
Nirai Melis talks to The NextWomen about her research investigating the role that newspapers play in damaging women's chances of having a successful career or business. "Newspapers have played a significant role in the inequality between men and women's career or business chances.This statement is proven in the results of my latest research, in collaboration with Mediaplatform VIDM."
What does a collage of pictures of men and women from the Sun look like? – 2014
No More Page 3 campaigner Kate Hardie and lighting technician Andy Lowe have released a video of them putting together a collage made from cutting out pictures of men and women published by the Sun over several months this year.
Karl Stefanovic's sexism experiment: Today presenter wears same suit for a year – 2014
"No one has noticed; no one gives a shit," Stefanovic tells Fairfax Media. "But women, they wear the wrong colour and they get pulled up. They say the wrong thing and there's thousands of tweets written about them.
"Women are judged much more harshly and keenly for what they do, what they say and what they wear."
His frustration at this, he says, sparked his experiment.
"I've worn the same suit on air for a year – except for a couple of times because of circumstance – to make a point.
"I'm judged on my interviews, my appalling sense of humour – on how I do my job, basically. Whereas women are quite often judged on what they're wearing or how their hair is … that's [what I wanted to test]."
By Michael Lallo
Jennifer Garner: No one asks Ben about work-family balance – 2014
"We got home at night and we compared notes," she continued. "And I told him every single person who interviewed me, I mean every single one, and this is true of the red carpet here tonight, Elle, asked me, 'How do you balance work and family?' "And he said the only thing anyone asked him repeatedly was about the t–s on the 'Blurred Lines' girl (Affleck's 'Gone Girl' co-star Emily Ratajkowski).
As for work-life balance, he said no one asked him about it that day. As a matter of fact, no one had ever asked him about it. And we do share the same family. Isn't it time to kinda change that conversation?"
By Kirthana Ramisetti
The Media Is (Still) Dominated By Men – 2014
A new report reveals a prominent gender bias in major broadcast, print, online, and wire outlets. Male journalists make up 63% of bylines in print, Internet and wire news media, according to a recent report from the Women's Media Center.
By Alexandra Sifferlin
The Ladies to Look Up to in Television and Why Their Representations Matter – 2014
Too often, female characters are painted with a broad brush: She's the pretty and bitchy one. She's the dumb one. She's the fat one who tells jokes. She's the power hungry man-hater.If we see female characters who reflect the complexities of female leaders, rather than caricatures of stereotypes, we may see more women vying for seats at the executive table, and more men taking them seriously.
Television can be an exhausting space for anyone who wishes to watch something that acknowledges difference, highlights the human complexity, or is looking for diverse characters who don't exist in stereotypes.
By Amy Shackelford
Hollywood: Too few women on screen, new study finds – 2014
Female characters were "dramatically under-represented" in the biggest films of 2013, according to a new US study.
By Amelia Butterly
BBC chief: no more comedy shows with all-male panels – 2014
Television producers have argued that women often turn down the more competitive shows and Brand agreed that there are hefty disincentives, including the fears that they might not get a word in or may be edited to look stupid.Brand said that QI, the general knowledge quiz show on BBC2, gave contributors more time to think and was less aggressive, but added that women were used as "window dressing".
By Vanessa Thorpe
Analyse: talkshowgasten tussen 1999-2013, De talkshowelite van Nederland in beeld – 2014
Nederlandse talkshows bieden veel vaker een podium aan PvdA'ers dan leden van andere partijen, ongeveer twee keer zoveel als VVD en CDA en vijf keer zoveel als SP, GroenLinks en D66. Een gemiddelde hedendaagse talkshow heeft 30% vrouwelijke gasten, hetzelfde percentage als Barend en van Dorp een decennium geleden. De helft van alle talkshowgesprekken werd gevoerd met slechts 544 (9%) van in totaal 5731 talkshowgasten. Zij vormen een zekere talkshowelite en worden keer op keer uitgenodigd in verschillende uitzendingen.
By Thomas Boeschoten
Women under-represented in decision-making in media organizations – 2013
Women hold only 22 % of strategic decision-making posts in the public media and only 12 % in the private media organisations in the EU-27– as the research of the European Institute for Gender Equality (EIGE) shows. 'Increased number of women in the decision-making structures of media organisations would bring social justice, better use of talents and innovative decisions. It would also improve media content.' – says Virginija Langbakk, Director of the European Institute for Gender Equality (EIGE).
Te weinig vrouwen op redacties en in het nieuws – 2013
Begin deze week stelde de Zwitserse krant Tages-Anzeiger voor om vrouwen-quota af te spreken: minstens 30% van de redacteuren zou vrouw moeten zijn. Niet iedereen was het daarmee eens, op het Persoenlich-blog stelde talkshow-moderator Roger Schawinski dat er zelfs nauwelijks vrouwen als talkshow-gast te vinden zijn:
"Oft ist es kaum möglich, zumindest eine Alibifrau für eine TV-­Diskussionsrunde zu finden, bei der es nicht um eines der häufig gewählten Softthemen geht."
Bij de Zwitserse media die in de buurt van de 30% komen, zijn de chefs overigens nog steeds man.
By Piet Bakker
The Gender Monitor: Women in Media – A shocking waste of talent – 2013
'The under use and side-lining of women journalists is just that: a shocking waste. Female reporting has a star cast: consider women such as US anchor Barbara Walters, now retiring aged 83; Marie Colvin, the UK Sunday Times reporter who lost her life in Homs whilst covering the Syria conflict last year, or Russian journalist Anna Politkovskaya, robbed of her life at a murderer's hands. Add to these headline hitters the many hard working women in regional and national media, reporting honestly and with integrity on issues that are vital to their communities, and the importance of women's contribution becomes clear.' – says Cathie Burton, Spokesperson and Head of the Press and Public Information Service at the Organization for Security and Cooperation in Europe.
The Effect Media has on our Body Image – 2013
The media serves as a constant reminder of what we should look like. The consistent reminders of such bodily portrayals make teenagers feel as if they will not be accepted into society, another major blow to the psychic of a human being. To be healthy on a psychological level, one must feel welcomed and accepted into the social pyramid. When this is denied, people develop psychological problems and have an unbalanced mental status.
By Rehmanins
Stand Your Ground, Be A Man – 2013
Thoughts on race and masculinity, in the wake of the George Zimmerman trial.
By Imran Siddiquee
Stagnant American Newsroom Diversity In Charts – 2013
By Matt Gertz
Deep-seated chauvinism stops women getting top European media jobs – 2013
By Katie Nguyen
Lack of female sources in NY Times front-page stories highlights need for change – 2013
By Alexi Layton and Alicia Shepard
Do Women count? It's time to hold the mainstream media accountable – 2008
By E. J. Graff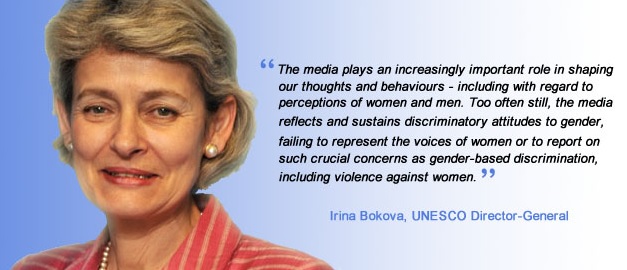 Research/Reports
Sekse-ongelijkheid in Vlaams nieuws – 2016
Een kwantitatieve inhoudsanalyse naar de aanwezigheid en hoedanigheid van vrouwen en mannen in Vlaamse nieuwsverhalen.
By Sara De Vuyst, Susan Vertoont & Sofie Van Bauwel
Global Media Monitoring Report – 2015
Women are much less visible in the media than men, the latest Global Media Monitoring Project (GMMP) study says.
Research by the organisation found women only make up 24% of people heard about in the news, despite comprising half of the human population. The GMMP's Sarah Macharia says the situation is not much better than 20 years ago when the study first began.

GMMP2015 Korte samenvatting uitkomst Nederland – 2015
In de Nederlandse media spelen mannen nog veelal de hoofdrol. Ruim tachtig procent van de mensen in het nieuws is van het mannelijk geslacht, zo blijkt uit de steekproef Global Media Monitoring Project op woensdag 25 maart 2015. Hierin is de aanwezigheid van mannen en vrouwen in het nieuws in de kranten, op de radio, de televisie en internet op één dag geteld. De score is beduidend slechter dan bij de vorige monitor in november 2009. Een kleine twintig procent (19,5) vrouwen nu ten opzichte van dertig procent in 2009.
Gendermonitor, Editie 1: Jinek – 2015
Het praatprogramma van Eva Jinek is sinds 5 januari 2015 dagelijks te zien om 23:00 uur op NPO1. In totaal zond NPO1 in januari 2015 19 afleveringen van Jinek uit. Daarin ontving Jinek in totaal 131 verschillende gasten. Onder hen waren 92 mannen (70,22 procent) en 39 vrouwen (29,77 procent). Tijdens drie afleveringen was geen enkele vrouw te gast. Arabiste Annabell van den Berghe is de enige vrouw die twee keer te gast was.
By Leon van Wijk
Handbook on the implementation of Recommendation – 2014
CM/Rec(2013) of the Committee of Ministers of the Council of Europe on gender equality and media.
According to the recommendations made the promotion of gender equality in the media should focus on the following six main
areas:
 gender equality policy and legislation;
 adoption and implementation of national indicators;
 provision of information and promotion of good practices;
 accountability channels;
 research and publication;
 media literacy and active citizenship.
Implementation of these measures requires a genuine commitment on the part of governments and
the media to provide both the material and financial resources and the managerial commitment
needed for there to be a real awakening among all involved in the media.
Gender equality is not something which depends solely on the desires of a few isolated individuals; it
is first and foremost the product of a collective commitment, which calls for a change of culture and
mentalities throughout the media.
by Pamela Morinière
Gelijkheid in Kranten? – 2014
Uitbreiding onderzoek You can't be what you can't see door sociologe Niraï Melis. Belangrijke nieuwsartikelen worden vaak weergegeven met foto's, dus op de foto's kan worden gezien wie het nieuws maakt, en veelal, wat het nieuws is. De foto's waar alleen mannen op staan en de foto's waar alleen vrouwen op staan zijn met elkaar vergeleken. Er is onder andere onderzocht hoe vaak deze foto's voorkomen, of ze op het werk, in privésituatie of tijdens sport zijn genomen en hoe de gefotografeerde op de foto staat. Ook is er gekeken hoe de verhouding allochtoon/autochtoon op foto's is. (samenvatting)
The Status of Women in the U.S. Media – 2014
New Research Shines Light on Gender Bias in Major U.S. Broadcast, Print, Online, & Wire Outlets: Male Journalists Dominate Most Sectors. The Women's Media Center – founded by Jane Fonda, Robin Morgan, and Gloria Steinem – has the goal of making women visible and powerful in media.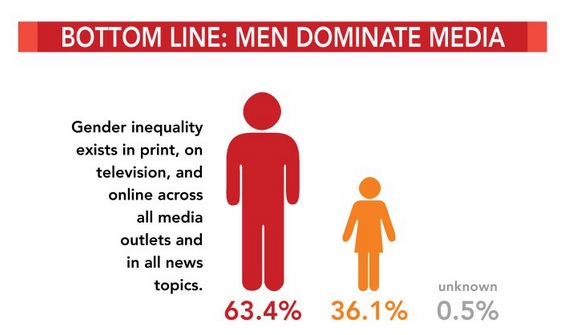 MEDIANE – Media in Europe for Diversity Inclusiveness Program – 2014
Media & Diversity – What is the problem?
In Europe, only a quarter of news items feature women, even though they account for over half of the European population (GMMP, 2010). Immigrants represent around 10% of the EU population (Eurostat, 2011); they appear as less than 5% of the main actors in the news (Ter Wal, 2004). Lesbian, Gay, Bisexual and Transgender (LGBT) people account for roughly 6% of the population of the United Kingdom but are represented as less than 1% on screen. Still in the UK, 20% of the population is disabled, but they are less than 1% to be represented on British TV (CDN 2009-10 Progress Report). In Belgium (CSA, 2012), persons with disabilities still appear in secondary roles and only as subjects in relation to disability. Still in Belgium, women and ethnic minorities appear mostly in secondary roles or as extras in the information (CSA 2012, AJPB 2011), rarely as an expert or a spokesperson. In France (CSA, 2008), while ethnic minorities account for 19% of actors in all TV news, they are represented more heavily in sports and music stories, than in political, social and economic news: more than a third, compared with less than 10%. In Europe generally (Ter Wal, 2004), these minorities appear in less than 5% in political coverage, with women (GMMP 2010) accounting for less than 5% of actors in the economic or scientific news.
Council of Europe Gender Equality Strategy 2014-2017 — 2014-2017
Fact sheet: Advancing gender equality in decision-making in media organisations – 2014
European Institute for Gender Equality
Vrouw in de Media 2013 – 2013
Een onderzoek naar de zichtbaarheid van vrouwen in de Nederlandse media van 2013.
Nieuwsmonitor onderzocht (in opdracht van ZijSpreekt en Mediaplatform VIDM) de aandacht voor vrouwen in de media. Ze onderzochten hierbij het aantal vrouwen dat voorkomt in zowel de landelijke dagbladen als in programma's van de publieke omroepen. Ze verdeelden de vrouwen in 10 verschillende categorieën. Op basis daarvan keken ze per categorie welke vrouw in 2013 het meest in het nieuws is geweest. In dit rapport is er extra aandacht voor vrouwen in de politiek.
Media and the Image of Women – 2013
Report of the 1st Conference of the Council of Europe Network of National Focal Points on Gender Equality.
Gender Equality Commission (GEC), "Media and the Image of Women" : Report – 2013
The Conference clearly concluded that there is a strong need to pursue efforts for gender equality to become a reality in the media landscape. Amsterdam is the first in a series of initiatives aiming to involve all social actors in a movement against gender stereotypes. A number of findings and recommendations are made at the end of this document that the Council of Europe will take on board. A follow-up will be ensured in the framework of the Council of Europe Strategy on Gender Equality (2014-2017).
Advancing gender equality in decision-making in media organisations: Report – 2013
This report is the first one to deliver comparable data on the number of women in decision-making positions across major media organisations in the 27 EU Member States and Croatia. Further to this, the report identifies the extent to which these same organisations have developed gender equality policies, monitoring mechanisms and specific initiatives to support women's career development. The report proposes the first indicators in the area of Women and the Media of the Beijing Platform for Action.
The findings show that while women have considerably outnumbered men in university-level and practice-based journalism programmes and that the employment of women in media is increasing, the organisational culture of media remains largely masculine and women are still significantly under-represented at the decision-making level.
Advancing gender equality in decision-making in media organizations – 2013
Council conclusions – "Advancing Women's Roles as Decision-makers in the Media" – 2013
Council of the European Union, meeting, Brussels, 20-21 June 2013
Survey report on women in journalists' unions in Europe – 2012
Women in Europe make up more than a third (42%) of journalist's unions membership and leading positions (36%).
The results of the study, which surveyed 21 unions and journalists' associations in Europe, shows a three per cent decrease in the number of female members and leaders compared to the results in the last EFJ survey in 2006.
"Young women make up 53% of youth membership in journalists' unions. This mirrors the extensive feminization of our profession", said Kerstin Klamroth, the IFJ gender council coordinator for Europe. "The fact that very few of them access leading roles is a concern. We should think again about the space, policies and structures we develop for women of all ages so that unions can better address the needs of our profession".
Gender Issues, Equality in the Media – Guide for Journalists – 2012
Women are nowadays present in almost every social sphere: it is up to journalists to find them and express this reality in the media.
Vrouwen in de media, Dutch research – 2012
Een onderzoek naar de zichtbaarheid van vrouwen in de Nederlandse media van 2012.
Media Quotum, Dutch research – 2012
Should there be a quota for the media?
Steering Committee for Equality between Women and Men, (CDEG), Women and Journalists First – 2011
A challenge to media professionals to realise democracy in practice, quality in journalism and an end to gender stereotyping.
(Joke Hermes)
Nieuws en Actualiteiten, Diversiteit & pluriformiteit in Medialand? Dutch research – 2011

Vrouwen in de Media, Dutch research – 2011
Een onderzoek naar de zichtbaarheid van vrouwen in de Nederlandse media van 2011.
Global Media Monitoring Project – 2010
The Global Media Monitoring Project (GMMP) is the world's most extensive and significant global research on gender in news media.
Highlights Global Media Monitoring Project – 2010
The Global Media Monitoring Project (GMMP) maps the representation of women and men in news media worldwide.
Global Media Monitoring Project Regional Report – Europe – 2010
NPO Kijk- en LuisterOnderzoek Monitor Representatie, Dutch Report – 2010
Vrouwen in de Media, Dutch research – 2010
Een onderzoek naar de zichtbaarheid van vrouwen in de Nederlandse media in 2010.
Onderzoeksrapport Vrouwen in de Media (Dutch) – 2009
Uit de Media Emancipatie Effect Rapportage blijkt dat televisiemakers sinds de feminiseringsgolf in de jaren '70 niet meer bewust bezig zijn met 'gender'. Een eerste reden zou volgens de onderzoekers zijn dat het probleem 'al jaren geleden is opgelost' en geen prioriteit meer is. Een tweede reden is de toename van het aantal vrouwen in de journalistiek; dit zou een meer verantwoorde beeldvorming m/v in televisieprogramma's tot gevolg hebben. Helaas laat de praktijk een andere realiteit zien.
Reacties van Neelie Kroes, Maria Henneman, Pia Dijkstra, Marga Miltenburg, Birgit Donker, Samira Bouchibti, Mensje Melchior, Rita Verdonk, Roos Wouters, Marion Winnink, Cindy Castricum, Jaqueline Zirkzee, Anja Beerepoot, Lonneke Bindels, Marjolein Hins, Petra Portengen, Cocky Booy, Miriam Notten, Lem van Eupen en Bernadette van Dijck.

Videos
Men Can't Stop Mansplaining Long Enough To Learn What Mansplaining Is – 2016
Studies have shown time and time again that women are interrupted in conversation way more than men. We're not imagining this. Not only are we more likely to be interrupted and less likely to be vocal at work, we're also negatively perceived if we try to speak up. A 2015 study showed that women were judged more harshly when speaking up assertively: "Women's perceived competency drops by 35 percent and their perceived deserved compensation by $15,088 when they are assertive or forceful." Well, that's comforting.
By Maria Guido
No More Page 3 'THE EXPERIMENT" – 2014
We collected The Sun over a 6 month period. Our volunteers were cutting out pictures for 5 1/2 hours and in that time we found no sportswoman featured in their sports pages. Not one. We may not have got round to every single edition (the rules of the experiment were if we cut one photo out of an edition we'd cut every photo out of that edition, but we'd stop when the wall was full) so perhaps we missed the one or two images in their extensive coverage of women in the Commonwealth Games and Wimbledon tennis, but honestly, we were as surprised as The Sun to find no women in their sports pages.
Emma Watson HeForShe Speech at the United Nations | UN Women – 2014
This impassioned speech kicked-off the HeForShe Solidarity Movement for Gender Equality. HeForShe brings together one half of humanity in support of the other half of humanity for the benefit of all.
Hillary Clinton: 'There Is A Double Standard' Against Women In The Media – 2014
Clinton's comments come after a new study on Wednesday highlighted another gender problem in the media. The study by the Women's Media Center found that women are hugely underrepresented in the media, with newscasts anchored by men 60 percent of the time. There is nearly a 2-1 difference in content contributed to news organizations by men than by women.
Help Geena Davis End the Job Crisis (For Female Animated Characters) – 2013
Geena's video message: why we need more female characters in children's media.
Lily Myers, poetryslam – "Shrinking Women" – 2013
Student Lily really provides some insight into how expectations for men and women differ and how much setting examples for our daughters really does matter.
How the Media Failed Women in 2013 – 2013
The Representation Project is a movement that uses film and media content to expose injustices created by gender stereotypes and to shift people's consciousness towards change. Interactive campaigns, strategic partnerships and education initiatives inspire individuals and communities to challenge the status quo and ultimately transform culture so everyone, regardless of gender, race, class, age, or circumstance can fulfill their potential.
Women in the media: role models matter! – 2013
Every woman should have the tools to take control of her life – but too few work in the key sector of ICT. Women and girls need role models – but we won't get far if all they see is princesses and ponies, or if technology is "marketed" to women just by "shrinking it and pinking it".
That's the message of Neelie Kroes, European Commission, to the conference "Media and the Image of Women" .
Spoken column Margriet van der Linden about Everyday sexism project – 2013
Almost 1 out of 3 women in the west only, has experienced rape or sexual assault. This narrative takes 3 minutes and a few seconds. During this time 4 women have been raped in Congo.
Media and the Image of Women conference – 2013
Miss Representation Extended Trailer – 2011
Miss Representation is the award-winning documentary film that exposes how mainstream media contributes to the underrepresentation of women in positions of power and influence in America. The film challenges the media's limited and often disparaging portrayals of women and girls, which make it difficult for women to achieve leadership positions and for the average woman or girl to feel powerful herself.
Megan Kamerick: Women should represent women in media – 2011
How do you tell women's stories? Ask women to tell them. At TEDxABQ, Megan Kamerick shows how the news media underrepresents women as reporters and news sources, and because of that tells an incomplete story. (Filmed at TEDxABQ.)
Riley on Marketing – 2011
While at the girls' section of a toy store, Riley had an epiphany: Girls' toys are often pink. Then she uncovers more and more and is not pleased about it.
The Bechdel Test – 2009
Sometimes called the Mo Movie Measure or Bechdel Rule is a simple test which names the following three criteria: (1) it has to have at least two women in it, who (2) who talk to each other, about (3) something besides a man. The test was popularized by Alison Bechdel's comic Dykes to Watch Out For, in a 1985 strip called The Rule.

Presentations
Sexism In The Media
Sexuality – Average American views 3000 advertisements per day – This amounts to 3 years of a persons life. They not only sell products, they sell : Sexuality Love Romance Success And Self Image.
By Sherry Bates

Websites
Who makes the news?
Who makes the news? is a knowledge, information and resource portal on gender and the media. It is run by the World Association for Christian Communication (WACC), a non-governmental organisation that builds on communication rights in order to promote social justice. WACC works with all those denied the right to communicate because of status, identity, or gender. It advocates full access to information and communication, and promotes open and diverse media.
Across Women's Lives
Across Women's Lives is home for PRI's collaborative radio, web and social media coverage of gender equity around the world. PRI's The World and our partners will travel across the globe to share stories of what it takes to change the status of women. We'll look at how initiatives that raise women's status affect their communities and countries.
The Geena Davis Institute on Gender in Media (See Jane)
The Geena Davis Institute on Gender in Media is the only research-based organization working within the media and entertainment industry to engage, educate, and influence the need for gender balance, reducing stereotyping and creating a wide variety of female characters for entertainment targeting children 11 and under.
MissRepresentation.org
MissRepresentation.org is a non-profit social action campaign and media organization established to shift people's consciousness, inspire individual and community action, and ultimately transform culture so everyone, regardless of gender, age or circumstance can fulfill their potential.
European Institute for Gender Equality
Media and the Image of Women
Conference of the Council of Europe Gender Equality Commission, organised in partnership with the Ministry of Education, Culture and Science of the Netherlands.
How does the media portray Muslim women?
Eupanelwatch.com
"None of the three women we called could make it" is our favorite excuse to why we don't see more women speaking at events (for more, check out our article Where are the women in Brussels policy debates?). And it is just an excuse! If none of the three (!) women you asked could come, ask three more. We can't buy that there are only three women in a given field in Europe who could be asked to speak at an event. If we do, nothing will change.
Congrats, you have an all male panel!
Important links missing? Let us know!
Tweets about "#UcantBwhatUcantC"